Vic East Gathering Day 2022
Introduction to the Gathering Day by retiring Regional Couple, Cath and Bob Dixon.
Acknowledgment of Country.
Acknowledgement of our membership of the Teams movement, through praying together the Teams prayer, The Magnificat. Everyone was asked to mute themselves but to pray the prayer aloud in their own location while we were led in prayer by Maureen and Phillip Steele.
Outline of the day's program
Crossroads (Breakout Groups)
Everyone present was given an opportunity to mix with each other through the use of breakout rooms, the Zoom equivalent of Crossroads in Teams. The following questions were suggested for discussion. The idea was that each person would choose one or two questions they wanted to talk about: not everyone had to answer the same questions.
What good things are happening in your life right now?
The Fruits of the Spirit are love, joy, peace, patience, kindness, generosity, faithfulness, gentleness and self-control (Gal 5:22-23).

What gift do you bring to Teams?
What gift do you see in your spouse?

Finish these sentences:

I'm proud that during the Covid pandemic I have …
My hope for our Team this year is …
At the moment, I feel my spirituality is …
Petra Ball and Terry McDevitt, from Adelaide, the new Oceania Couple.
In this session, Petra and Terry introduced themselves and how they understand the role they have taken on. They then spoke about the challenges facing our Vic-East Region, where members are ageing, the number of Teams is declining, and there has been so far no success in finding a Regional Couple to replace Cath and Bob Dixon.
Petra and Terry invited participants to think about these questions:
What does "best practice" engagement and support from the Oceania Team look like for Vic-East Teams members in 2022 – 2024?
What are possible consequences of not having a leadership structure in Vic-East? For you, your Team, and for the Oceania Region?
What are the options in Vic-East – in Victoria as a whole – to go forward with Teams?
This was followed by a time of questions and discussion.
Morning Tea Break
Chris Monaghan – "The Bible as a source for spirituality"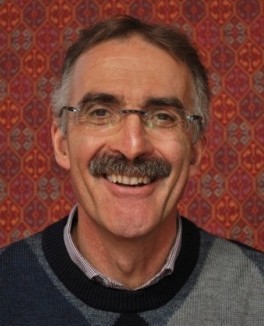 A presentation by Chris Monaghan, Passionist priest, Spiritual Counsellor for Team 1, and President of  Yarra Theological Union (YTU) in Box Hill, where he has been lecturing in both Old and New Testament since 1987.
After Chris' presentation, there was an opportunity for couple reflection, discussion in breakout rooms and, finally, a time for questions and answers.
The discussion questions posed by Chris were:
We have the Four Gospels, and they are all different. If you were writing the Fifth Gospel:
What would you be sure to include?
What would you leave out?
What would guide your decision?
What are the two or three biblical passages that guide you in living your life?
Commissioning of Responsible Couples for 2022
This closing segment of the day was led by Petra and Terry.