A Virtual Gathering of Team Members from all Regions across Oceania
Saturday 18 September 2021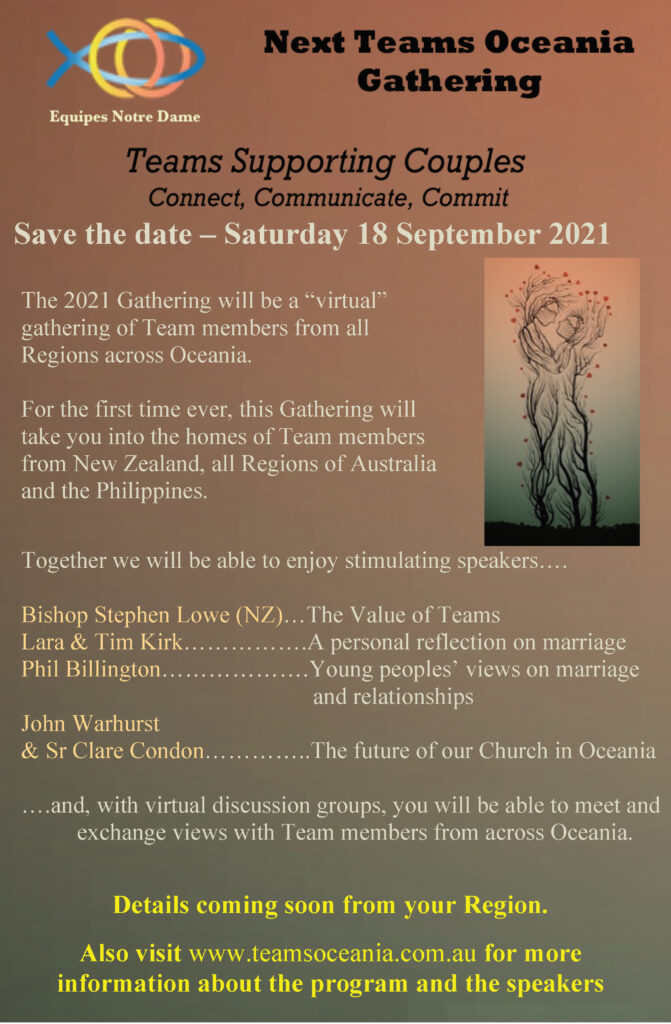 Theme
Teams Supporting Couples
Connect, Communicate, Commit
The program for the 2021 Gathering reflects the importance of Teams couples and individual members connecting, communicating and then committing to:
each other,
other members of their Team,
their Region, and
their Church and their broader community.
Connect, Communicate and Commit will be a constant thread throughout the program.
The Program
A Virtual Program
The 2021 Gathering will be delivered "virtually" due to the COVID-19 pandemic. However this presents a great opportunity for many more Team members to participate than would normally be the case when Gatherings are held in a particular Region.
As a result, we can expect Team members from New Zealand, all Regions in Australia, and the Philippines to join in the 2021 Gathering from convenient locations or from their homes.  Currently individual Regions are deciding the best arrangements for their Region.
A Program Designed to Bring Team Members Together
The program focuses on three issues that are central to our lives in the 2020s:
Support for married couples and challenges facing Catholic marriage,
A time of upheaval in the world with a focus on young people, their relationships, beliefs and values, and
What the next few years might bring to our Catholic faith
A unique feature of Oceania Teams Gatherings has been the opportunity for Team members to meet other Team members from other Regions in Australia and even from Regions in other countries.  This will continue with the 2021 Gathering.
Not only will there be an a stimulating, well-informed and thought-provoking range of presenters, there will be feedback from individual participants and follow up in "virtual discussion groups".  In these groups you will be able to meet and exchange views with Team members from across Oceania.
A detailed program will be completed and circulated shortly but already all presenters who had agreed to participate in the postponed Gathering last year are committed once again to being part of this "virtual" 2021 Gathering.
Our Speakers for the 2021 Oceania Teams Gathering
Bishop Stephen Lowe
Bishop Stephen Lowe is the Bishop in the Diocese of Hamilton in New Zealand.  Bishop Stephen has been instrumental in the recent expansion of the Teams movement in his Diocese. 
Bishop Stephen will open the Gathering with an address on the value of Teams and the many challenges facing Catholic marriage.
Lara and Tim Kirk
Lara has over 20 years' experience speaking with young people about marriage and sexuality and currently works for the Archdiocese of Canberra and Goulburn as Marriage, Family and Relationships Co-ordinator.  Lara and Tim are trained in Theology and Education and are leaders within the Disciples of Jesus, a Catholic lay community.
Lara and Tim will talk about their personal experience of married life and the importance of support for all married couples.
John Warhurst
John Warhurst is an experienced political scientist, with special interests in public policy, political lobbying, election campaigning and church-state relations.
John is Emeritus Professor of Political Science at the Australian National University in Canberra. John is Chair of Concerned Catholics Canberra Goulburn and is a delegate from the Archdiocese of Canberra-Goulburn for the Plenary Council 2021. He recently served on the Governance Review Project Team for the Australian Catholic Bishops Conference.
Sr Clare Condon
Sister Clare Condon is a former Congregational Leader of the Sisters of the Good Samaritan. She served as leader from September 2005 until September 2017. In 2013, Sr. Clare was awarded a Human Rights Medal by the Australian Human Rights Commission in recognition of the Good Samaritan Sisters' work with asylum seekers, Indigenous Australians and the victims of domestic violence.
Both John Warhurst and Sr Clare Condon will discuss what the next few years might bring to our Catholic faith and the challenges our Church might face.
Phil Billington
Phil has been Coordinator of Religious Education for the Canberra-Goulburn Archdiocese and then Director of the Catholic Education Office in the Sandhurst Diocese.  Phil has also had extensive experience in Teams, being a spiritual counsellor and facilitated many Teams Gatherings.  One of her current interests is young people's views about long-term relationships and marriage.
Phil will facilitate the 2021 Gathering as well as speak about the relationships, beliefs and values of young people at a time of upheaval in the world.